Our World
Valentina Karnoubi was created in 2019 with the mission of telling stories about women and inspire dreams in her admirers through the language of flowers, colors and sculptural volumes. Based in Buenos Aires,
this romantic designer brand made by and for women, explores the meaning of beauty from an inclusive and contemporary perspective.
Respect, commitment and creativity are the core values of the brand, that follows the path which sustainability is tracing. Detail-oriented designs aspire to be passed on though the women of a same family. Fair labor, small productions and finishing techniques that feature local craftsmanship, make love the basic fiber of every creation.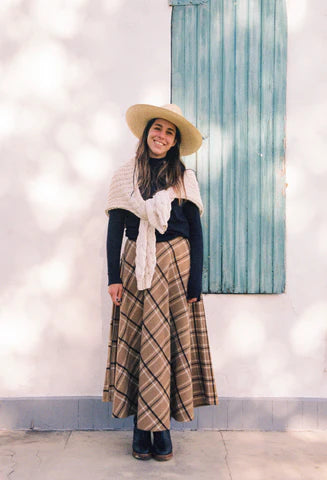 About the designer
Creative, hard-worker and with a great sensibility. That's how Valentina Karnoubi defines herself. Her passion for fashion flourished during her childhood. After graduating in Fashion & Textile Design and Fashion Production at Universidad de Palermo, the Buenos Aires designer travelled to London to reinforce her skills at Central Saint Martins. Her professional life began in the atelier of other designers and in collaboration for prestigious magazines such as Vogue Brazil. In 2012
she cofounded the well-know Argentinean brand Mila Kartei and in 2019 she decided to venture a new chapter by launching her eponymous brand. Recently, Valentina moved to Uruguay in the pursuit of a new adventure. For her, fashion is about telling stories and expressing a point of view.